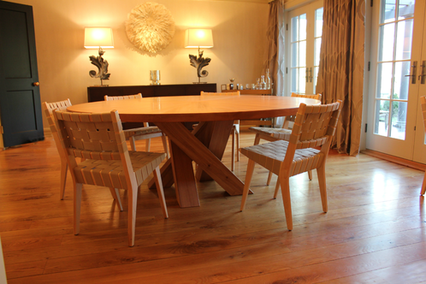 Hello and Welcome!

Thank you for stopping by my website. My name is Jacek Ryszka of J.R. Signature Creations.
I design and build high quality, original wood furniture and cabinetry.
All my work is custom made and tailored to my client's needs. If you are thinking of decorating your home with unique, wooden furniture durable enough to last for generations, please consider J.R Signature Creations.
My expertise is creating a wide variety of hand crafted furniture including
custom made tables
,
desks
,
cabinets,
benches
or any custom woodworking.

I pay great attention to detail and to the needs of my clients throughout the entire process, which includes the design drawing and wood selection. The type of wood is key for different pieces of furniture; the work you see on this website is made of flame maple, teak, black walnut, cherry, ebony gabon, among others.
I create pieces here at the J.R. Signature Creations shop, based outside New York City. My pricing is fair and reasonable and I guarantee my work.
My clientele is from New York City, Westchester, Putnam and Dutchess counties. I ship worldwide. Please explore my website and feel free to contact me with any questions you may have about my custom made furniture.
Lets build something together! There is always story behind a custom project.
Get your free quote today! Simply hit the button!
---
Now Serving Greenwich CT.
Custom Tables

THEY ARE STURDY BACKDROP of every meal,
the places we set our wine glasses or cups of coffee, the silent witness of dinner chats,
relaxed conversations with friends and family.
As furniture goes, tables are perhaps the recipients
of more of our actions than any other furniture in our homes.
Whether it's a dining table, coffee table, pedestal or side table,
it is a touchstone—we eat meals on it,
speak our minds over it. It's central to our celebrations of pivotal life moments,
of coming together; it is a partner in the unique personal history of the owner.

---

Chabudai











This chabudai table is made entirely of black walnut. The luxurious, sweep of the grain envelops the dramatic knots in the wood, and are brought out by the use of a high, polyurethane satin finish. The gentle arch of the table's legs speak to the solid strength of this piece. Traditionally, the chabudia is a multi-purpose, short-legged table common in Japanese homes, used primarily as a dinner table but also as a children's study table and a work bench for needlework. J.R. Signature Creations constructed this chabudai to be 36 inches around and 14 inches high.

---

Hall Table











The clean, sleek lines of this superbly crafted hall table is all about elegance and durability. This table is made out of Flame Maple (tiger maple) known for its beautiful, natural grain which adds to the table's delicate texture. The legs are tapered slightly to give the table a semi-buoyant quality. Carefully hand cut dovetails connect the drawer sides which are made of black walnut and the drawer is accented by the pull knob made of rich, ebony gabon, an African black wood known to be the most expensive wood in the world. This style of table will highlight up any hallway and can be crafted with specific measurements.

---